What can we learn from the Isle of Eigg for water?
The Isle of Eigg in Scotland is a world first example of combining wind, solar and hydropower with energy storage in one system to enable 90% renewable energy supply to the island. However, it isn't just about the technology, it is the ownership and governance along with changing behaviours that have enabled this innovative low carbon approach. After hearing about this scheme through a BBC Costing the Earth
Podcast
I have outlined these further and consider the implications for integrated water management below.
Isle of Eigg
Progress in community renewable energy and the use of decentralised approaches is rapidly enabling some areas to go off grid and bringing benefits to those areas that are too expensive to serve.
There are several features which make the Eigg scheme unique and are the reasons why this has been an international case study for researchers. These include:
First scheme to combine hydro, wind, solar and energy storage in one system
The community owns the island and owns/ developed its own energy supply
Community learning has been a key feature of the scheme. A maximum of 5kWh is allowed for each family. A kettle of immersion heater with an element accounts for 2.5 kWh and stickers were provided to households to remind and educate them about energy use of appliances to reduce peak loads on the system.
Sweat equity - much of the cost from the run of river hydro scheme installed was met through labour provided by the islanders. This in turn means they have a stake in their energy supply while reducing the overall costs.
The cost of this decentralised solution is far lower than an interconnector supplying energy from the mainland or the individual diesel generators employed before.
Economic and wider benefits are already arising with the scheme, including population growth on the island enabled by a renewable energy supply.
What can we learn from a water perspective?
There are similar areas of water supply that are hard to supply on islands or in rural communities. Additionally, private water supplies are increasingly being recognised as a potential health risk. In England there are currently 37,717 known private supplies and in a recent study 13% of supplies failed tests for
E.coli
(see
link
for more info)
.
Communities can get together to develop water management schemes. Upstream competition in England may further enable local community trusts to take over water services or provide services to new developments.
Either through community trusts or through a new innovative private supplier - supporting smaller communities using decentralised water supplies can enable more integrated water management approaches

Linking surface water management and SuDS with water recycling and re-use
Community scale rainwater harvesting and third pipe systems can enable a greater level of control over maintenance and water quality
Maintenance of SuDS features for recreation and amenity on both private and public land supported by volunteers in the local community
Opportunities to join up with combined heat and power schemes and ground/ air source heat pumps

Behaviour change - water budgets are an approach that is increasingly used in the USA for water efficiency. Within the context of a community water supply a lower level of service could be agreed that means peak water use needs to be limited by household behaviour as in the case for energy on Eigg.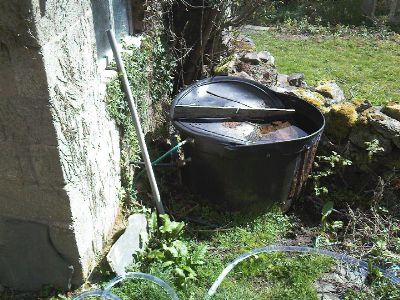 Moving from private water supplies to water sensitive local communities