Water Efficiency Strategy for the UK: delivering changes in Scotland
[Originally Posted on the Waterwise Website http://www.waterwise.org.uk/pages/water-efficiency-strategy-for-the-uk-delivering-changes-in-scotland.html]
A strategic approach to delivering more ambitious water efficiency is needed to help ensure enough water for people, the economy and the environment, now and in the future.
UK expert body Waterwise has launched its Water Efficiency Strategy for the UK. The strategy sets out an ambitious blueprint for a water-efficient UK - where water is used wisely, every day, everywhere, and this helps to tackle the very real challenges of climate change and environmental degradation we face now and in the future.
Waterwise is the leading UK authority on water efficiency and well-known in the sector for driving ambitious actions and innovative thinking on water efficiency. The strategy will help all of us aim high on water efficiency.
Pressures on water resources in Scotland
It may seem like it always rains in Scotland, however it does not always fall where it is needed. Scottish Water only has access to 1% of all the rain that falls in Scotland and many raw water sources are small, meaning that levels in reservoirs, lochs and rivers can drop quickly during dry weather.
The last time that Scotland experienced a national drought was in 1984, although some areas of Scotland have experienced severe dry weather periods in recent years, including the Tayside Region in 2003, as well as drier than average conditions in 2010 in Dumfries and Galloway, the Western Isles and Skye in 2012 and Fife in 2013. So, drought impacts can be experienced in Scotland.
There are increasing pressures on water resources from climate change, population growth and the need to protect the environment and Water Efficiency has an important part to play in protecting this valuable resource.
In Scotland, domestic water use is unmetered and accounts for 892 Ml/d or 150 litres per person per day (2016-17) compared with an average unmeasured consumption in England and Wales of 160 litres per person per day (
Discover Water, 2017
). Consumption has remained fairly constant since 2008/09 with a declining trend in non-domestic water use and leakage resulting in lower distribution input. In 2016-17 non-domestic water use was 404 Ml/d.
Affordability is also a major concern - with both water and fuel poverty issues across Scotland. One in five Scottish consumers is in debt for their water and sewerage services (
Citizens Advice Scotland, 2015
). In 2014 the estimated rate of fuel poverty remained similar to the previous year: 34.9% or around 845,000 households were fuel poor (
Scottish Government, 2016
).
Actions by Scottish Water on Water Efficiency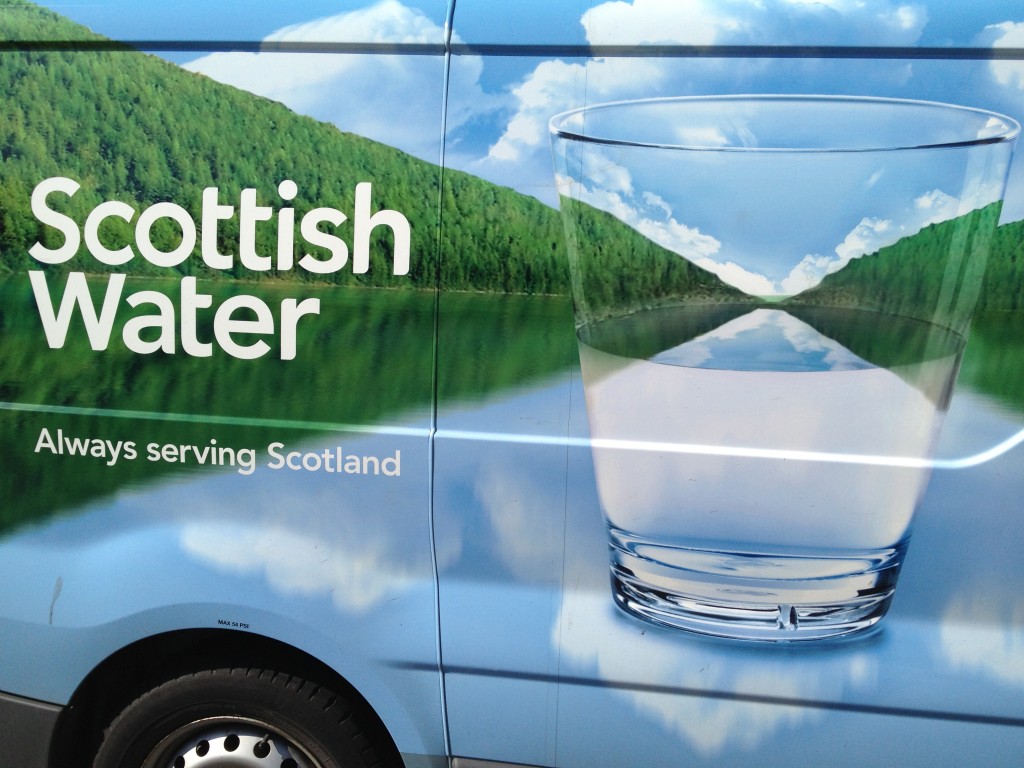 In response, Scottish Water are piloting a range of innovative approaches to delivering water efficiency. The
Water Efficiency Plan 2011-2015
set out three key areas around engaging with customers, improving assets and working with stakeholders.
Current projects being undertaken by Scottish Water include:
● Providing water efficiency advice and gadgets as part of a number of the Scottish Government's Home Energy Scotland (HES) schemes managed by the Energy Saving Trust (EST). Pilots include combined energy/ water as well as water led campaigns and opportunistic referrals from the HES advice centres across the country.
● Water efficiency retrofit as part of the Warmer Homes Scotland fuel poverty scheme delivered by Warmworks - 84 households to date
● Waterwise have trained 25 EST and Warmworks staff on water efficiency advice and retrofit to support this project.
● Galashiels whole town water efficiency engagement programme – 1,000 households
● DAIAD Trial - Waterwise are working with Scottish Water and Warmworks to trial 10 amphiro smart shower monitors with households as part of combined water and energy efficiency home visits
● These pilots will form the strategy going forward to deliver 49,000 water efficiency packs by 2021
"Scottish water have delivered 84 combined water and energy efficiency retrofits in since Jan 2017"
Key actions from Waterwise's Water Efficiency Strategy for the UK to deliver in Scotland
Waterwise's Water Efficiency Strategy for the UK sets out a series of actions that will improve evidence and increase the ambition and delivery of water efficiency in Scotland - benefitting people, the economy and the environment.
Specific actions for Scotland include:
● Review joint water and energy efficiency programmes in Scotland
● Review water efficiency in social housing standards and guidance in Scotland
● Undertake a water efficiency rebate trial linked to the water label
Between 2006 and 2011 Waterwise hosted the
Saving Water in Scotland Network
, which was successful in bringing together politicians, water company representatives and other stakeholders on water efficiency. This network could be revived to help deliver actions from the Water Efficiency Strategy and promote water efficiency in Scotland.
It's down to all of us to take action to drive more water efficiency - governments, regulators, water companies, manufacturers, businesses, workplaces, and all of us in our homes and gardens. It's totally doable if we work together - and that's what we're going to do. We're aiming high in water efficiency, together.
The Water Efficiency Strategy for the UK is a great opportunity to deliver more ambitious water efficiency in partnership - building on work to date. Waterwise look forward to working more closely with Scottish Water, SEPA, WICS and the Scottish Government to deliver actions from the strategy.